I think we can all come to a consensus that the most annoying thing at the airport is the security lines. Nobody likes standing in a queue for long. It puts a temporary hold on the excitement for your vacation. The deterrent security lines at the airports are just frustrating. Period.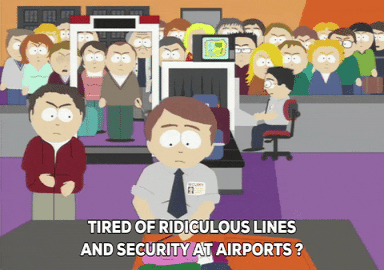 According to a survey conducted by OAG, a UK-based travel data and insight company, 50% of travelers have spent at least 45 minutes in airport lines. This comes as no surprise. There were 21% of the unlucky ones who have spent more than an hour. 59% agreed that the security lines were the longest followed by boarding lines, and baggage and check-in.
Woah! 45-60 minutes are too much. Think about all the things you can do during this time (like having beers at the airport).
So, is automation the solution? Well, not really. The respondents admitted that they'd still prefer human interaction over automation for check-in services, baggage, baggage, concierge, and in-flight services.
Yet they are onboard with airlines and airport staff tracking them so that more staff could be deployed in the crowded areas. Wow! Think about their frustration.
As if we are not already being tracked much! 
While it is clear from the survey insight that automation is still in the future, travelers are way more than okay with having more loading zones to give them enough prep time. While they are not ready for 100% automation yet, they wouldn't mind the use of biometrics-based identification to expedite the process.
So, it is clear from the survey that airports should simply open more lanes to keep the security line moving. That way, everybody wins.
Featured image: travelphant.com