Just as the Oscars 2020 have been announced, it is already being celebrated as probably one of the unique award ceremonies of the century. Apart from most number of women being nominated this year, to most amount of money spent on gift bags given to nominees, there are many more reasons why Oscars 2020 is truly special.
Did you know that Oscars were started in 1929, when the tickets were priced at $5 and just 270 people attended it?
Things have changed so much in the 91 years that have passed.
#1. A third of this year's nominees are women — the highest ever
This year's Oscars have the most number and highest proportion of women being nominated for the award in the history – with one-third of the nominees being women. However, there were no women in the Best Director category and people are outraged that the "Little Women" was left out.
#2. Brad Pitt just won his first Oscar
56-year old Brad Pitt has done some incredible roles in his acting career, and he has been nominated several times. But this was the first time that his talent was honoured at the highest level as he was given an Oscar for Best Supporting Actor in the film Once Upon A Time In Hollywood.
He had won an Oscar as the producer for "12 Years A Slave" in 2014. This is his first acting Oscar.
#3. Organizers spent $44 million on the Oscars ceremony
The Oscars have multiple events such as a luncheon, an after-party, Governors Awards, and the Governors Ball.
#4. It takes 900 hours to lay down the red carpet at the Oscars
18 workers work tirelessly day and night to put down the red carpet, each worker putting 900 hours of labour. The 50,000-square-foot carpet itself is worth $24,700. The carpet is also assigned dedicated security forces which stop anyone from stepping on the carpet until the celebrities arrive.
#5. Average cost of an actress costume is about $10 million
An average dress that Hollywood actresses wear to the Oscars, cost about $10 million. However, the record for most expensive dress goes to Cate Blanchett who were an $18.1 million dress at the 2014 Oscars.
#6. Hollywood studios spend more than $100 million to make sure their film wins the Oscar
If you thought movies won Oscar because of sheer excellence and quality then you'd be wrong. Truth is that Hollywood studios and production houses spend more than $100 million every year to run a campaign that helps them win the Oscars.
Apart from advertising, they hire influence bloggers and strategists who create the image of film in such a way that it seems Oscar-worthy. And then there is lobbying to the jury. This is how an Oscar winner is created.
Winning actors and actresses hike their fees by 20% or more. While the winning films make $15 million extra on an average, the profit being bigger for big budget films.
#7. Oscars After Party is the most expensive, tickets cost $105,000
The party is organized and hosted by magazine Vanity Fair.
#8. A 30-second ad at the Oscars costs $2.6 million
While $2.6 million for a 30-second ad is still quite less compared to the price of Super Bowl ads, the Oscars are watched in 225 countries all over the world so the ads have a bigger reach. ABC broadcasts the show within US, and they make $149 million in ad revenue just for showing this one ceremony.
#9. Oscar's gift bag to each nominee was worth $225,000
Oscar gift bags for 2020 were the most expensive ones yet. With each item being a height of ridiculous luxury. You can check what's inside the gift bag here.
#10. Eminem performed for the first time at the Oscars
Eminem's song "Lose Yourself" was written for his autobiographical film 8 Mile, and the song won an Oscar in 2003. But Eminem at that time had snubbed the Grammys and he didn't show up at the Oscars as well.
After 18 years, he returned and performed "Lose Yourself" in front of the Oscar audience.
#11. Parasite is the first foreign language film ever to win an Oscar for Best Film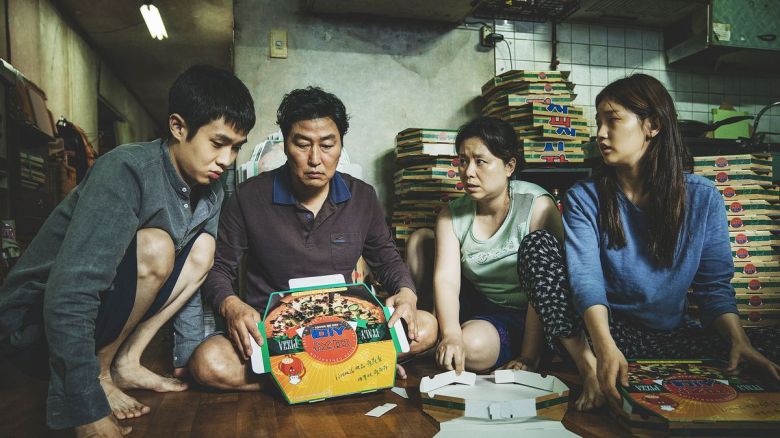 Korean film Parasite created a new record and did something no other foreign language film could ever achieve.
Featured Image Courtesy: ABC
Please follow and like us:
Comments
comments