Country singer Dolly Parton was all smiles this Grammy. And for good reason!. The likes of Miley Cyrus , Katy Perry and more took the stage in a tribute to her.
The singer herself was seen performing with the artists. Dolly definitely was the Queen of Grammys 2019.
Here's what took place
It really looked like a night that Dolly could say, she owned. Parton was indeed the Queen of Grammy night this year. The 61st Grammy awards featured a 10-minute tribute to the Country music Queen ; having the likes of Katy Perry and Kacey Musgraves, Miley Cyrus, Little Big Town and Maren Morris perform some of her hit songs.
The tribute started off with a color coordinated duo; namely Katy Perry and Kacey Musgraves, singing Dolly's 'Here You Come Again' in their unique voices. The duo looked ravishing in red as they sang together. They soon parted and made way for Parton, as she made her way onstage.
Dolly looked elegant in her beautiful white-form fitting dress as she took the centre stage with Katy and Kacey. Following this, Miley Cyrus joined the singer and sang a duet version of Dolly's famous 'Jolene'.
The Tribute
Maren Morris later on joined them on stage and sang together, Partons Grammy award winning song, 'After the Gold Rush'.
What's interesting is the fact that , this particular song of hers was sung by a trio, Emmylou Harris, Linda Ronstadt and Dolly. The song received much fame and credit during the Grammy Awards 2000.
The fun did not stop there as the music slowly dropped and each of the ladies present wowed the stage with their vocal performance. The last segment of tribute daw a stunning climax with 'Little Big Town' and Dolly performing her new song, 'Little Red Shoes'.
The Grammy's this year was definitely one to watch.
Dolly was the Queen
The tribute finally ended with Parton's classic number, '9 to 5'.Many of the star audience present , stood in a standing ovation that followed. Even K-pop icon group, BTS were seen tapping their feet to Dolly's hits. Grammys this year was quite the show with a wowed star audience breaking out in dance as the tribute went on.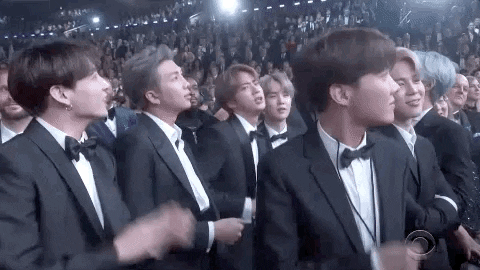 Prior to the show, Dolly revealed to the Tennesean that she was working with a special group of people come Grammy Awards 2019. The singer whose accolades house eight Grammy Awards described her song, 'Red Shoes' as one of her favorites.
[On her song Red Shoes]it's my modern day 'Coat of Many Colors.' It's like going back in time with the spiritual elements.It sounds so good, [On her Grammys collaboration with Little Big Town].Hopefully it will be a big night. I just want people to know how appreciative I am of this whole thing. I just feel honored. I just feel proud. I just feel humbled really by it

Dolly Parton
Dolly Parton was awarded the Musicares Person of the Year award prior to the Grammy celebrations.
Comments
comments