Saudis are known for the ridiculous amount of oil money, but they're more famous for indulging in outlandish luxuries. While billionaires like Jeff Bezos, Bill Gates and Zuckerberg like to behave as if they are common people, the Saudi billionaires leave no stone unturned in showing off how much wealth they actually have.
They do bizarre things that costs millions of dollars, like covering a car in diamonds, having 317 rooms in just one house, keeping cheetahs and lions as pets, and so many more.
Here's a list of 9 most ridiculous things the Saudis have done with their money;
#1. The Helipad where bizarre things happen
This 689-ft high Helipad on one of the most expensive hotels in the world, has hosted some outlandish events on such a ridiculous height. Like a tennis game between Roger Federer and Andre Agassi, Tiger Woods and Rory McIlroy have played golf here on different occasions, and David Coulthard performed donuts with a Formula 1 car for a Red Bull event.
#2. The man with a 250,000-square-feet Palace
Al-Waleed bin Talal, a Saudi prince, lives in Riyadh in Kingdom Palace – dubbed as his primary home. It spans over 250,000-square-feet (23,000 m2) and costs about $130 million. It has 317 rooms, 250 TVs, 1500 tons of Italian marble, silk carpets, gold-plated faucets, and other extravaganza. Talk about hogging of wealth!
#3. Most expensive car in the world
This Mercedes is encrusted with 300,000 Swarovski crystals and diamonds, and costs about $4.8 million dollars. While there was a general idea among people that this car is owned by Al-Waleed bin Talal, the same guy who has the 317-room house. But after that, he has denied ownership of this car. All we know that the car exists, and somebody owns it while hundreds of millions of people can't even afford public transport.
#4. Fleet of gold cars
Turki bin Abdullah, another Saudi prince, has a fleet for four cars – a Mercedes G63, a Rolls-Royce Phantom Coupe, a Lamborghini Aventador SV, and a Bentley Flying Spur. All of these cars are wrapped in gold vinyl and are worth $2 million.
#5. $500 Million Airbus – "Kingdom in the Sky"
Remember Al-Waleed bin Talal from #2 and #3? He also used to own this Airbus 380 which already is worth $400 million, and then he added customization worth $100 million – a concert hall, a prayer room, a Rolls-Royce with its own garage. The plane was called "kingdom in the sky."
#6. Boeing 747 with all that's gold
Apart from its lavish golden interior, this Boeing 747 has a Throne room, two bedrooms, a dining room that seats 14 people. The customization of this place costs about $300 million while the plane itself is worth $220 million. Can you guess who owns it? That's right, Al-Waleed bin Talal. Again!
#7. An actual functional Batmobile
Two Saudi princes own this Team Galag which designed this Batmobile based on the design from Arkham Knight games. Costing about $1.3 million to build, this car has a Lamborghini V10 engine and a carbon fiber exterior.
#8. Pet cheetahs and lions
Saudis have been known for that fascination with exotic pets, having collar-strapped cheetahs and lions in their houses and their cars. It was so common that you'd often see them sticking their necks out the car's window if you happened to be on the same road. Now owning cheetahs and lions is outlawed in UAE, but what the heck, the rich people are above the law and they buy justice by the kilos – so who's gonna stop them?
#9. Falcons on a plane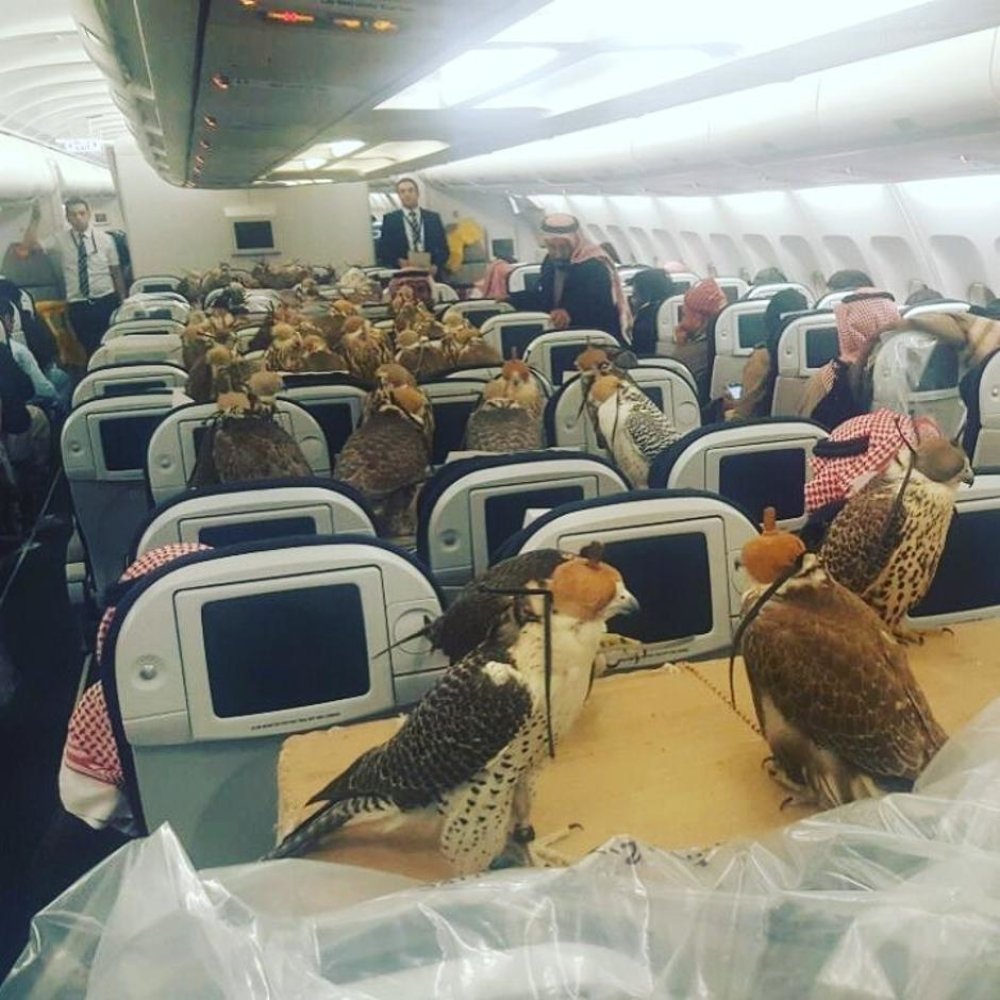 This another Saudi prince, booked an entire plane just to carry his 80 falcons. And each one of them had a seat! You might think it outrageous to book a plane for the falcons, but give a thought to why in the name of earth this man owns 80 falcons?
The tale does not end here. Incidents of Saudi men doing ridiculous shit with their oil money are so many that this list could be virtually endless. While women in their country live in a permanent lockdown and a never-ending curfew, with no access to any money or power – living lives in golden cages.
If you ever pause to think about it, think about the fact that billions of people in the world struggle to make ends meet, while a small majority does shit like this – they might as well be laughing in our faces.
Well, if you do need a good laugh, read this story of the Saudi man who accidentally bought two airplanes for his son's birthday.
Featured Image Courtesy: Gag Loop
Comments
comments