The Internet has been taken up by the storm as Netflix just launched the trailer, poster, and release date for the much-awaited movie titled El Camino: A Breaking Bad Movie. 
Netflix posted a listing for the movie, with the following description: 
"Fugitive Jesse Pinkman (Aaron Paul) runs from his captors, the law and his past. In the wake of his dramatic escape from captivity, Jesse must come to terms with his past in order to forge some kind of future."
What's in the Trailer?
The trailer shows Jesse's friend and former colleague Skinny Pete being interrogated about the whereabouts of Pinkman.
"I don't know where he's headed," Pete says. "North, south, west, east, Mexico, the moon. I don't have a clue."
He also says that he wouldn't tell them about Jesse's location if knew. "I heard about what all they did to him to make sure he kept cooking," he scoffs at them. "So sorry, I don't know what to tell you. No way I'm helping you people put Jesse Pinkman back inside a cage."
Why Is Jesse Pinkman Being Hunted?
The scene indicates that Jesse Pinkman's manhunt is about the fact that he is the suspect for their murder. Vince Gilligan had hinted at this in an interview given to GQ after 2013 finale of the show:
"The mostly likely outcome for Jesse is that his fingerprints are gonna be found all over the lab and he is gonna be on the hook for two federal agents' murder.

– Hank and Steven
Poster That Will Knock Your Socks Off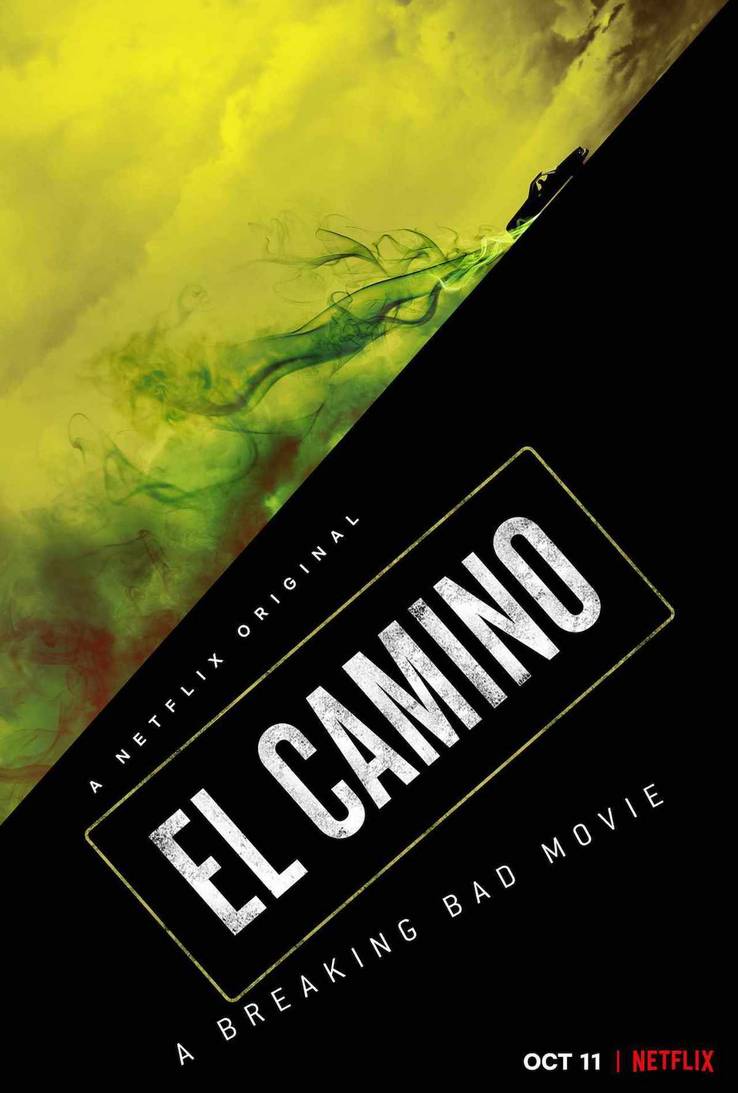 The poster features the El Camino car racing away, which Jesse Pinkman was last driiving in the final episodes of Breaking Bad. The famous green gas featured in the original Breaking Bad opening credits dominates the view in the backdrop of mustard-tinted clouds. The periodic table-themed font that was used throughout the show has been absent. 
Will Walter White Appear?
Bryan Cranston, who played Walter White, did tease about a possible reappearance or a flashback, in an interview given to Entertainment Tonight, avoiding a clear answer:
Could be a flashback, a flash forward, I'm still dead. I don't know.
If that wasn't enough to get the fans restless, Bryan and Aaron posted on twitter the same picture of two mules with the caption "Soon", giving rise to more speculations.
Although fans have been speculating a possible cameo by Walter White who may have survived his gunshot wound in the finale, the director Vince Gilligan insists that Walt is "really dead."
When Aaron Paul was asked about whether we'd be seeing Walter White in the movie, he said, "all I can say, I think people will be really happy with what they see."
Fans are elated that the movie is written and directed by Vince Gilligan, who was the creator of the legendary masterpiece Breaking Bad. 
Featured Image Courtesy: Pop Culture
Comments
comments