Home to the world's best pastries, Budapest is one place you must not miss. In case you are in this beautiful Hungarian city, don't leave without trying their pastries. Hangarian cuisine is known for being rich and generous with spices. Even more so for their pastries.
The Cafe Culture was and is still booming in Budapest. Thanks to this, you can now savor some of the world's very best baked goodies. While it's great to be in the hub of baked goodness, it can get pretty confusing to know where to start. Amidst the thousands of options available, we've curated a list of the five best spots for pastries and everything yummy. Head over to these legendary Hungarian shops for the best pastries in Budapest.
#1 Auguszt Cukraszda
This cukraszda is the stuff of legends, come true. The place holds special value as it stands strong through the many tribulations it has faced over the decades. There are quite a few franchises of the Auguszt, however the main outlet is found in Budapest. As a family business, the Auguszt has survived quite a few things; ranging from being destroyed by a bomb during WWII to being controlled by the state. For a taste of true wonder, heritage, culture and perseverance, head over to Auguszt.
#2 Daubner Cukraszda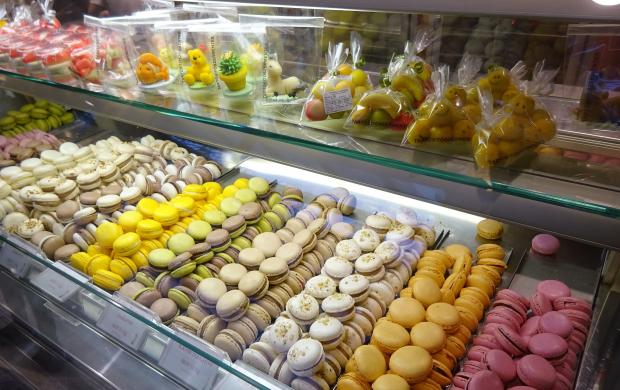 For a taste of the world best beigli? (walnut and poppy seed stuffed rolls), head over to this bustling pastry shop. What's constant about Daubner is the long queue that waits outside it's walls. Famed to be the most busy pastry shop in Budapest; what they serve you will prove to you that your wait is worthwhile. Located slightly away from the center of the city, Daubner is one place you must not miss, while in Budapest.
#3 Gerbeaud Cukrászda
Hailed as one of Europes best coffee shops, Gerbeaud will leave you spellbound by it's sophisticated ambiance and delectable pastries. This is one cafe that has stood the test of time since the 19th century. For a taste of true class and luxury, head over to Gerbeaud without a second doubt.
#4 Molnar's Kurtoscalaks
Kurtos are a delectably satisfying dessert. It can be described as a moist, soft and savoury cake curl covered in cocoa, chocolate or even coconut. The variations are plenty. Among the various stalls selling Kurtos, Molnar's stands out as the best. In fact, they even give out free samples of their desserts so that you choose what you like best. Molnar's offers a huge variety of Kurtos for every occassion, be it for coffee, hot chocolate or tea. When in doubt, head over to Molnar's.
#5 Ruszwurm
To taste the infamous classical cream pastry, Ruszwurm is where you must head. An unimpeachable hit since 1873, this vintage cafe will bring you to your knees in joy, over their delectable pastries.
Their special classical cream pastry is made from a 173 year old recipe. Now who doesn't want to taste this piece of heaven? Happy Binging!
Featured image courtesy: LiveKindly.com
Comments
comments