At some point of life, we all suffer from certain catastrophic events that make every passing moment difficult to live. These events could be anything, a heartbreak, a financial loss or even a disease. But as they say: "life goes on", so we must always find a reason to move on.
In this blog, we are sharing a list of movies that will make you look at the bright side and will help you realize that nothing but your attitude towards problems and life define your tomorrow. So, take a deep breath and get ready to add these flicks to your 'Watch Later' list.
1. Unconditional
Stars: Lynn Collins, Michael Ealy, Bruce McGill
Samantha Crawford lives a happy life with her beloved husband by her side. But her life is shattered when he is killed in a senseless act of violence. She loses her faith and doesn't want to live any more. Then she meets Joe, an old friend, who becomes her support system and brings sense and light into her life.
2. The Fault In Our Stars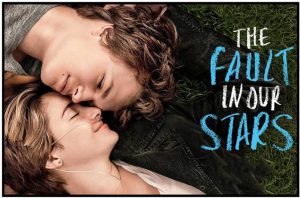 Stars: Shailene Woodley, Ansel Elgort, Nat Wolff, Willem Dafoe
Hazel has cancer. Despite the fact that the disease is in remission, she doesn't feel happy. She visits a cancer support group where she meets Augustus and falls in love with him. Hazel and Augustus begin a life-affirming journey to visit a reclusive author in Amsterdam.
3. My Sister's Keeper
Stars: Cameron Diaz, Abigail Breslin, Alec Baldwin
A lawyer has to represent a very unusual case: an 11-year-old girl sues her parents after finding out that she was conceived in-vitro to help her leukemia-stricken sister Kate remain alive.
4. Soul Kitchen
Stars: Adam Bousdoukos, Moritz Bleibtreu, Pheline Roggan
Zinos Kazantsakis is the owner of a not so popular restaurant in Hamburg. Things get shaken up a bit when he hires a better chef. Newfound success turns his quiet life wild but then he seems to face disaster at every turn.
5. My Life Without Me
Stars: Sarah Polley, Scott Speedman, Mark Ruffalo
Ann is 23, she has two daughters, an unemployed husband who hates everyone, and a father who just got out of jail. She works as a janitor at a university. Her monotonous life changes when she finds out that she has terminal cancer and has only 3 months to live. She decides to radically change her life.
6. Now Is Good
Stars: Dakota Fanning, Josef Altin, Jeremy Irvine, Olivia Williams
Tessa is 17, and she's dying of leukemia. But she dreams about being a normal teenager. So, she compiles a list of things she'd like to do before passing away. Topping the list is her desire to lose her virginity.
7. Still Alice
Stars: Julianne Moore, Alec Baldwin, Kristen Stewart, Kate Bosworth
Alice Howland is a linguistics professor. She has a happy family and three grown-up children. But things change when she begins to forget words.
8. The Book Thief
Stars: Sophie Nélisse, Geoffrey Rush, Emily Watson
Germany, World War II. 9-year-old Liesel moves to Munich with her adoptive parents and learns how to read. Books become the meaning of life for her and she begins stealing them. What she finds out from the books helps her understand the events happening around her.
9. Lion
Stars: Dev Patel, Nicole Kidman, Rooney Mara
Saroo was born to a poor family in India, and got lost when he was 5. He wanders around Calcutta and survives many challenges before being adopted by a couple in Australia. 25 years later, he sets out to find his lost family. The movie is based on true events.
How many of these films have you watched already? Share your opinion in the comments !!
Comments
comments