Look no further than the produce drawer of your refrigerator or the fruit basket on your kitchen table for a diabetes-friendly treat that can help keep your blood sugar within a healthy range.
The fiber — also present in some of the best veggies for diabetes and whole grains — can improve your health, promote feelings of fullness, and reduce cravings and overeating. Maintaining a healthy weight can improve insulin sensitivity and assist with diabetes management.
When you have diabetes, the following fruits keep your blood sugar well within a healthy range, lower your risk of certain diabetes complications such as neuropathy (nerve damage), kidney disease, and vision problems such as glaucoma cataracts or diabetic retinopathy, among others.
1. Berry for a Refreshing Treat and Disease-Fighting Antioxidants
You are free to indulge if you enjoy blueberries, strawberries, or another type of berry. Berries are a diabetes superfood due to their high antioxidant and fiber content. According to the USDA, one cup of fresh blueberries contains 84 calories and 21 grams (g) of carbohydrates.
2. Tart Cherries Help Fight Inflammation
Per the USDA, one cup of cherries has 52 calories and 12.5 g of carbs, which may be especially good at fighting inflammation. Tart cherries are also packed with antioxidants, which may help fight heart disease, cancer, and other diseases, notes a review published in March 2018 in Nutrients. 
3. Sweet, Juicy Peaches for Metabolism-Boosting Potassium
Fragrant, juicy peaches can be included in your diabetes-friendly diet. According to the USDA, one medium peach contains 59 calories and 14 g of carbohydrates. It also has 10 milligrams (mg) of vitamin C, which covers 11 percent of your daily value (DV) for that nutrient, and 285 mg of potassium. The fruit is delicious on its own or tossed into iced tea. 
4. Apricots for a Scrumptious, Fiber-Rich Bite
Apricots are a sweet summer fruit staple and an excellent addition to your diabetes meal plan. These fruity jewels are also a good source of fiber. According to the USDA, one apricot has just 17 calories and 4 g of carbohydrates. Four fresh apricots provide 134 micrograms (mcg) of your daily vitamin A requirement, which is 15 percent of your DV. 
5. Apples for a Quick Fibrous and Vitamin C–Rich Snack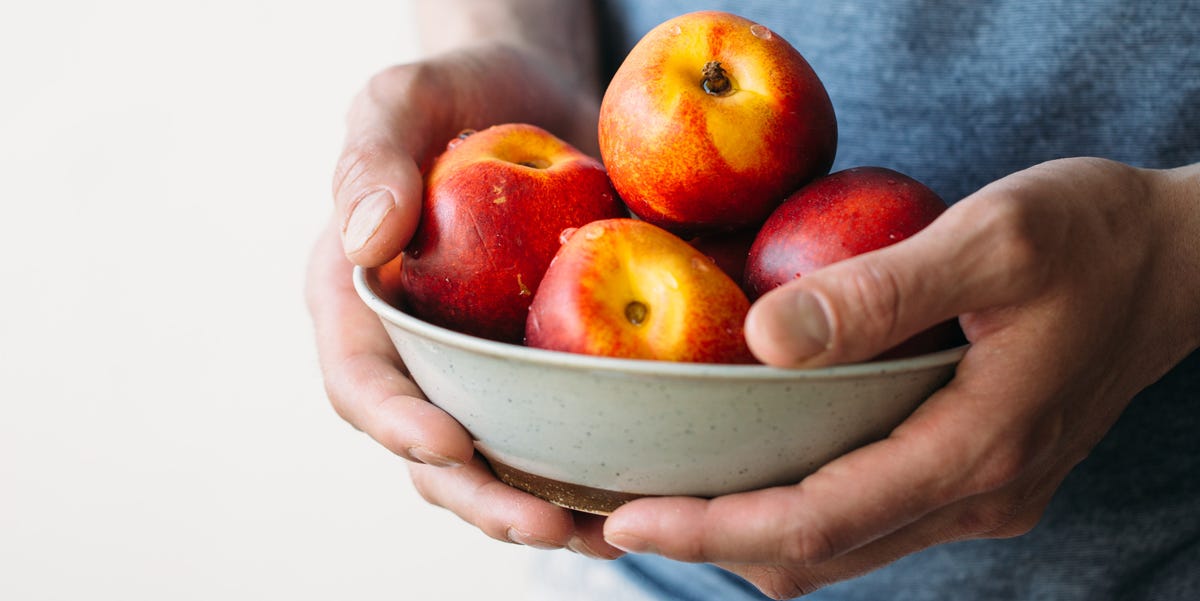 An apple a day really might keep the doctor away. Toss one in your purse or tote bag if you're on the go; a medium-sized apple is a great fruit choice, with just 95 calories and 25 g of carbs, notes the USDA. Apples are also loaded with fiber (about 4 g per medium fruit, for 16 percent of your DV) and offer some vitamin C, with one midsize apple providing 8.73 mg or about 9 percent of the DV.
Comments
comments