The best graphic design software is essential for professional graphic designers and others who want access to the wealth of creative options that technology affords to make different kinds of visual design. No longer the exclusive domain of a couple of big players, the best graphic design software now includes a vast range of programs that can be used for both print and digital design; However, there are still industry standard offerings that largely remain industry standard for a reason.
Most of the best graphic design software is not free. After all, developing, maintaining, and updating such powerful graphic design tools requires a lot of work. In the guide below, we'll round up all of the best graphic design software available now, from versatile software packages that cover many areas to specialist tools aimed at particular niches. 
The best graphic design software today:
01. Adobe Illustrator
If you want the best graphic design software for vector drawing and editing, there's little need to look further than Adobe Illustrator. It remains the industry-standard software for a reason and still offers the most powerful range of tools and features for vector editing. Illustrator is part of Adobe Creative Cloud, and to use it, you'll need to subscribe, either for Illustrator alone or to Adobe's full suite of creative apps, including Photoshop, InDesign, and many more. 
02. Affinity Designer
If you feel Adobe's subscription model is a little too pricy, then Serif's Affinity Designer is a powerful alternative. The best graphic design software available for a one-off payment, Affinity Designer has become very popular as it adds more and more features, coming close to rivaling Illustrator. Affinity Designer works with Illustrator AI and Photoshop PSD files, so you don't have to worry about compatibility if colleagues or clients work with Adobe's software. 
03. Sketch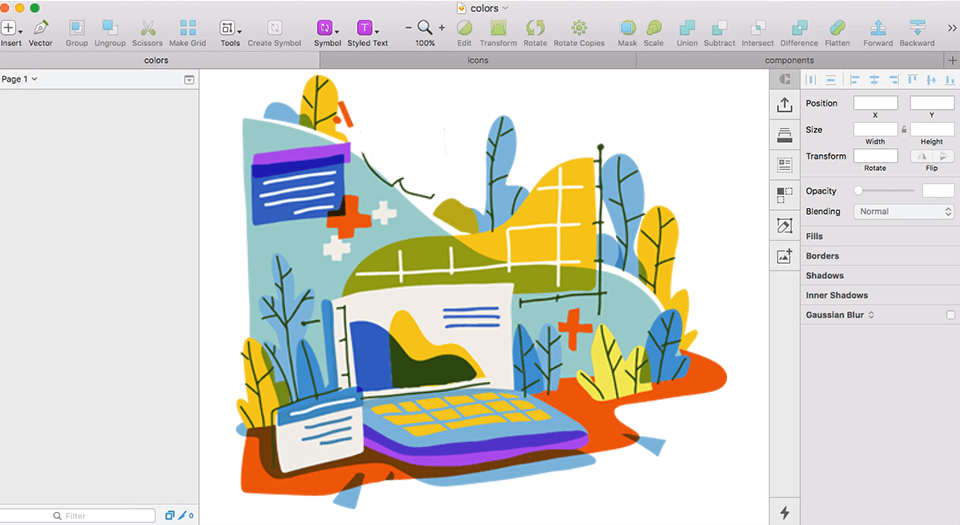 If you're looking for the best graphic design software specifically for UI design, prototyping, and making icons, then you might want to consider Sketch – if you work on a Mac, that is. While it doesn't have the depth of software like Adobe Illustrator or Affinity Designer, Sketch has everything you need for UI design and is easier to use if you have that specific purpose. It has a minimal interface, making it easy to get started, but it offers a wide range of features if you need them, thanks to an extensive library of plugins. 
04. CorelDRAW 
First launched in 1989, CorelDRAW lost some of its popularity to Adobe Illustrator, but it still has legions of fans, and the 2021 version of the software introduced some significant updates. Long available for Windows only, a Mac version(opens in a new tab) has been available since 2019, serving to broaden the appeal of a package that now has a lot of Illustrator's features, and at a slightly more affordable price. You can also have more flexibility in paying since you can choose between a one-off payment or a subscription.
05. Adobe Creative Cloud Express
Formerly Adobe Spark, Adobe Creative Cloud Express (or CC Express) is the newest addition to the Adobe family and the brand's attempt to compete with affordable entry-level graphic design software like Canva and Picsart. Available online and as a mobile app for iOS and Android, it takes the essential photo/video editing tools, and the Asset library from across Adobe's suite of apps and puts them into an accessible one-stop package.
Comments
comments