Is it possible to classify the best beaches on the planet? Of course not, because preferences vary depending on amenities, accessibility, swimming and water sports alternatives, safety, place attachment, leisure, and scenery. Nonetheless, as a well-traveled individual who has walked on the sands of numerous beaches around the world, I present my top ten list of the world's most spectacular beaches. It should come as no surprise that most of these beaches are found in the world's best beach destinations, ranging from coral to sandy and lengthy to enclosed. Sadly, these beaches are no longer a secret; you must share their breathtaking beauty with many other tourists.
If tranquillity is a must, you may consider swapping the beaches listed below for one of the world's most beautiful (semi-)private hotel beaches or opt for a stay at one of the world's most exclusive private island resorts.
1. ANSE SOURCE D'ARGENT, SEYCHELLES
The blinding white sands of Anse Source d'Argent make it one of the most photographed beaches in the world. The beach sparkles against a backdrop of enormous granite boulders, worn by time and weather. An offshore reef protects from ocean waves, making turquoise water an ideal spot for swimming. Keep an eye out for endangered birds and giant tortoises!
2. POLIHALE BEACH, HAWAII, USA
Polihale is hands-down the Hawaiian archipelago's most breathtakingly beautiful beach. This seemingly deserted 11 km (7 mi) stretch on the western end of Kauai, one of the world's most scenic islands, is several miles from the nearest town and holds a vibe of enchantment and mystique still alive in Hawaii today. The beach can only be reached via a poorly marked, dirt sugarcane road, making a four-wheel-drive vehicle preferable (check with your rental car company for restrictions before heading out).
3. CAMPS BAY, CAPE TOWN, SOUTH AFRICA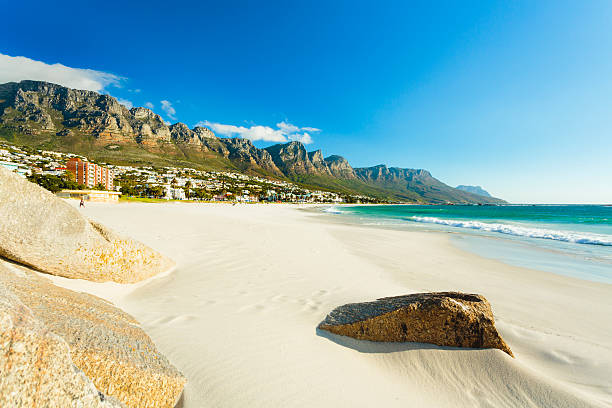 Cape Town tops my list of the world's most beautiful cities, not least because of the magnificent beaches on its doorstep. Camps Bay is not only Cape Town's most famous beach but also the only urban beach to make it into my top 10 list. Boasting blinding white sand set against the majestic backdrop of the Twelve Apostles Mountain Range and Table Mountain, Camps Bay's water is a bit cold due to the currents in the Atlantic Ocean, but that will not distract you from the fantastic surrounding scenery and world-famous sunsets.
4. MAYA BAY, KOH PHI PHI, THAILAND
Maya Bay is a stunningly beautiful, sheltered bay on Thailand's Koh Phi Phi. The main beach within the bay is around 200 m (650 ft) long and features silky soft white sand, with colorful underwater coral and exotic fish in clear water. With a ring of white sand surrounded by mangroves and towering limestone walls blanketed by dense foliage, it's easy to see why director Danny Boyle chose this beach for cult-favorite The Beach, starring Leonardo DiCaprio.
5. LONG BEACH, VANCOUVER ISLAND, CANADA
It is not only tropical beaches whose breathtaking beauty can make one speechless. The best example is Long Beach, the longest sandy beach on Canada's Vancouver Island, which offers eye-popping scenic views and an unmatched maritime wilderness. Located within the Pacific Rim National Park Reserve between Tofino and Ucluelet, its 10 miles (16 km) of pristine sand is backed by lush rainforests and washed by a calm pounding surf. Twenty thousand grey whales migrate up this coast each spring and summer.
Comments
comments