Boredom always tends to set in when we invest our time doing too much of something. That could either lead to dropping that activity altogether or turning it into a creative event. These people did the latter!
One activity is having or cooking a similar kind of food every day! But little did we know that food, too, is an ocean of creativity, at least when it comes to its presentation. Food shaped like animals, plants, or cartoon characters does sound like an interesting meal, doesn't it?
Some of us might not even want to eat it by the fabulous look of it. How about a dose of creative inspiration?
1. "Kimchi fried rice with a kidnapped spam bear"
2. "Spirited away"
3. "Homemade chocolate cupcakes with caramel turkeys"
4. "A croissant I made this morning for my significant other"
5. "Homemade cheesecake with buttercream frosting"
6. "Lamb tartare, confit egg yolk, asparagus, peas, broad beans, and foraged herbs"
7. "Homemade cactus cupcakes"
8. "Magikarp kyaraben/character bento (smoked salmon)"
9. "My friend's ramen cake"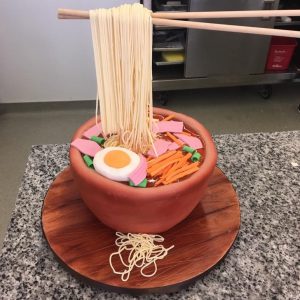 10. "Year of the ox bento"
Comments
comments